Press center/
News
JSC "RCSС" participates in the conference in Tashkent
Author - Нургалиева Сара Кабиевна
Translator - Измуханов Абзал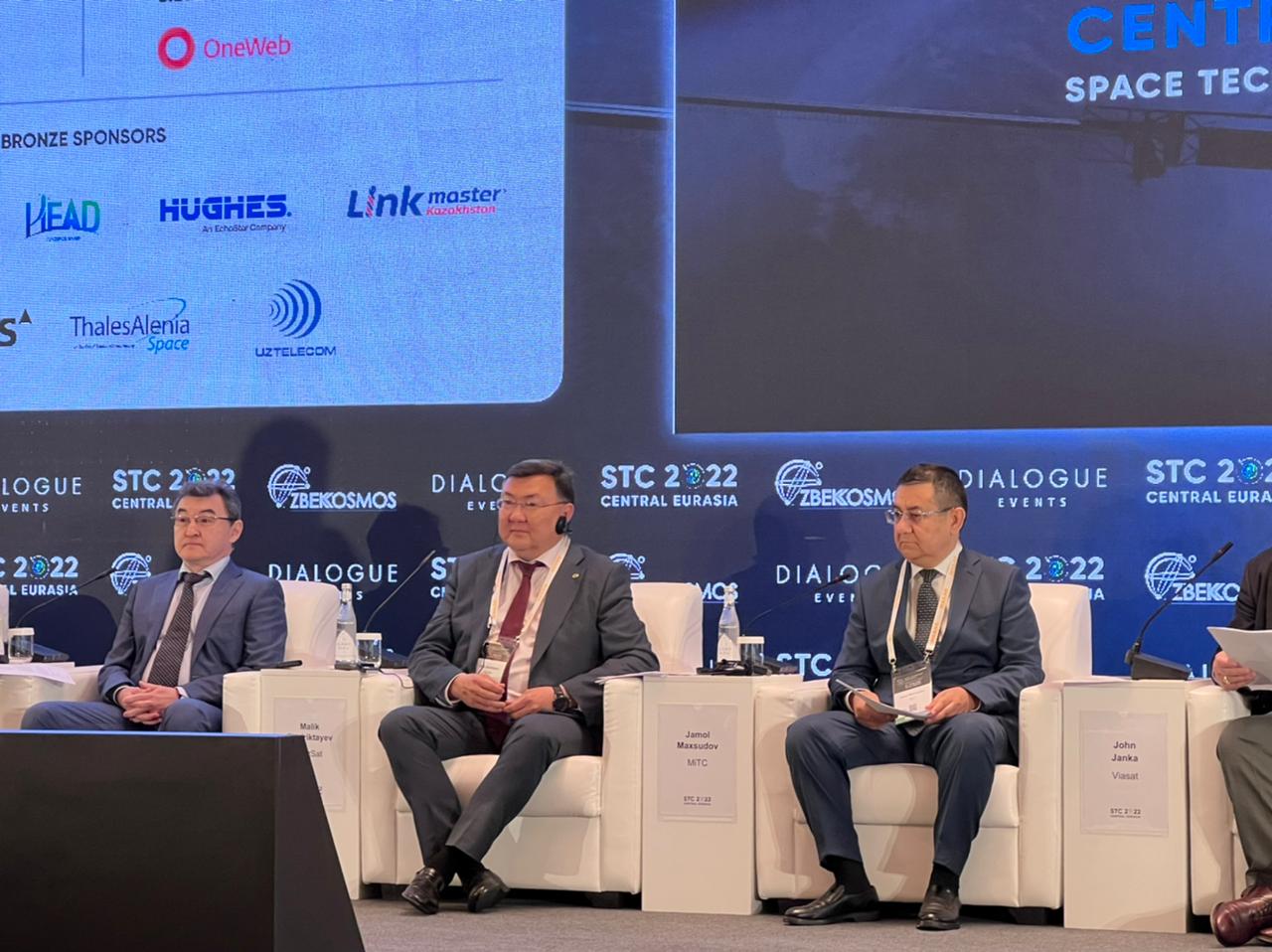 JSC "RCSC" as part of the delegation of Kazkosmos participates in the conference on space technologies (STC -2022) in Tashkent

TASHKENT. PRESS SERVICE - The first Space Technology Conference (STC 2022) in the Central Eurasian region is being held in Tashkent from 10 to 12 May 2022. A delegation of Kazakhstan, consisting of the leaders of the Aerospace Committee (ASC) of the Ministry of Digital Development, Innovation and the Aerospace Industry of the Republic of Kazakhstan, enterprises of Kazcosmos, and specialists in the space industry, takes part in its work.

The grand opening of the first regional conference on space technologies began with a greeting from the acting. Director General of Uzbekcosmos Shukrat Kadyrov and Minister for the Development of Information Technologies of Uzbekistan Sherzod Shermatov.

On the first day of the conference, dedicated to the topic of space technologies as a sustainable engine for the socio-economic development of Central Eurasia, Baubek Oralmagambetov, Chairman of the ASC of the MDDIAI of RK, spoke with information about space activities in the Republic of Kazakhstan.

As the chairman of Kazkosmos noted, the main reports of the Kazakh delegation will be devoted to modern satellite technologies, which will be presented by the leaders of JSC "NC" Kazakhstan Gharysh Sapary "(KGS)" JSC "Republican Center of Space Communication" (RCSC). "In this regard, we have good experience and the opportunity to share our views on the economic effect and prospects for the development of modern space technologies," B. Oralmagambetov emphasized.

On the same day, May 10, 2022, Aidyn Aimbetov, Chairman of the Board of JSC NC KGS, spoke at the conference about the results of the work of the Kazakhstani space system for Earth obesrviong (EO).

On the second day of the conference on space technologies STC - 2022, the Chairman of the Board of JSC "RCSC" Malik Zhuiriktayev presented a presentation of the Kazakh satellite communication and broadcasting system of Kazakhstan "Kazsat".

As you know, Kazakhstan has two space satellite systems (SSS). As part of the SCS EO of the Republic of Kazakhstan, there are two remote sensing satellites and a ground-based complex for controlling and processing space images, the SCS "Kazsat" consists of two communication satellites and two ground-based control complexes.